Woven Polypropylene Bags for Dry Goods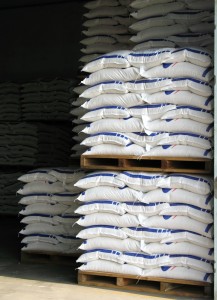 Midwestern Bag & Supply is a leading manufacturer of poly woven bags in the U.S. Our woven polypropylene bags comfortably hold from 25 to 150 pounds of free-flowing dry goods. Safely and securely store, lift and transport goods using the polypropylene bag supplier that Fortune 500 companies depend on for quality and cost-effectiveness. At Midwestern Bag & Supply, excellence is our standard. Perfection is our goal.
With our premium standards, we manufacture our woven polypropylene bags to deliver superior performance. To start, we weave polypropylene, which is a thermoplastic resin, in two directions. This process creates a material that's light, but also strong. It's then shaped and sewn into a bag, which can be custom-printed to your needs.
The features of our poly weave bags, from tear-resistance to reusability, make them useful for several applications:
Animal feed
Fertilizers
Grass seed
Pet food
Grains
Chemicals
Resins
Food products
Flood and erosion control
As a leading polypropylene bag supplier, our woven polypropylene bags offer several advantages, including:
Compliance with strict requirements: Within the food industry, it's critical every product meets the standards set by overseeing organizations. Midwestern Bag & Supply products give you peace of mind, matching the most detailed requirements of the Food Safety System Certification (FSSC) and the British Retail Consortium (BRC).
Custom delivery and design options: With our poly weave bags, you not only distinguish your products from the competition but also save money in the process. We'll store your bags until you need them, plus customize them to your exact needs, from their opening method, seam style and size to their colorized logo and text.
Cost-saving protections: Protecting your products, such as grain or grass seed, from pests and environmental factors are essential. That's why our woven polypropylene bags resist tearing, thus deterring animals like mice, and avoid degrading when exposed to wet conditions. For complete protection from moisture, we offer laminated BOPP bags.
Additional advantages of our poly weave bags include their burst strength, load capacity and more.
Leading Supplier of Woven Polypropylene Bags
Midwestern Bag & Supply is a leading poly bag supplier in the U.S. because:
We design and manufacture our PP bulk bags to meet your specific requirements. If the poly woven bulk bags we have in stock don't accommodate your needs, ask us about creating the custom design that works for you.
We stock and release your order when you need it. Save valuable floor space with Midwestern Bag & Supply and let us deliver your woven polypropylene bags when you need them.
Our 100-percent woven polypropylene bags come in numerous sizes, and are suitable for a variety of needs. Ask us about food-grade bags that meet the most stringent FSSC 22000 and BRC requirements.
Our mission is to meet and exceed your expectations with on-time, cost-effective packaging solutions that set the world standard for quality.
We stock our woven poly bags for delivery in warehouses across the nation, which means you can get your order quickly and conveniently.
We can print your custom pp bulk container bag order with the text or logo of your choosing, including color printing.
Our Product Line
In addition to pp woven bulk bags, Midwestern Bag & Supply also designs and manufactures:
BOPP laminated bags that can be printed up to 10 colors with reverse printing to maximize your marketability at the highest quality.
Non-laminated woven poly bags plain or printed.
Sewn or EZ-Open features to allow users fast access to discharge contents.
Sturdy bags that save space, improve load capacity and stay secure during transport.
Woven bags can be manufactured with circular or back seam styles
Hay Bale sleeves, Emergency sandbags and more — just ask.
Get in Touch With Midwestern Bag & Supply
Midwestern Bag & Supply is ready to meet your complete flexible packaging requirements, from BOPP laminated to woven poly Hay Bale sleeves.
Call Midwestern Bag & Supply at 877-311-3422.
*Last updated December 26, 2017