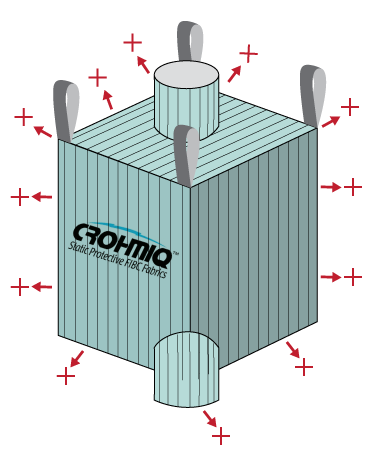 Type D Bulk Bags
Midwestern Bag & Supply designs and manufactures antistatic bulk bags with CROHMIQTM, our patented polypropylene type D fabric that's ideal for storage and transport in environments with flammable gases, vapors and dust. These antistatic FIBC bulk bags provide protection by dissipating electrical buildup and limiting the energy of discharges, preventing ignition. With our type D FIBC bags, your business can safely store and transport dry, free-flowing products in environments where ethylene, toluene, methane and dusts from corn starch, resins and fertilizers are present.
Type D FIBC Bulk Bags From Midwestern Bag & Supply
Our static protective, type D bulk bags securely lift and transport loads from 2,000 to 4,000 pounds. When you choose Midwestern Bag & Supply as your static protective FIBC bulk bag supplier, you'll get:
An outstanding safety record, with over 25 million CROHMIQTM type D bulk bags used since 1995.
Sturdy 4-Panel construction that features an enhanced square filling shape and independent panels that allow for safe stacking and transport.
Our sought-after baffled design that improves loading capacity, saves floor space and allows for secure stacking.
The option to customize your antistatic bulk bags for your precise storage, lifting and transport requirements, in addition to access to our large inventory of in-stock type D containers.
Standard U-Panel design that maximizes storage capacity while maintaining shape integrity.
Circular designs that are versatile at the most cost effective rate
Electrostatic-FIBC-Classification for Type D
Type D FIBC bulk bags are designed specifically to operate in dangerous situations to control discharge incendivity when it is not possible to, or potentially dangerous to, engage in earthing. For most applications, this includes transporting flammable powders and other dangerous substances when flammable solvents and gases are present in the environment.
Type D FIBC bulk bags also operate safely in the presence of combustible dusts with MIE ≤3mJ. However, they are not typically recommended if there is a likelihood that the bag's surface could become contaminated or splashed by conductive materials.
Type D FIBC fabrics have a variety of requirements so that their antistatic and static dissipative properties can minimize risks from incendiary sparks and propagating brush charges without needing a connection to the ground. Electrostatic requirements for these fabrics and Type D FIBC bags include:
Bags and materials must include an insulating layer, typically a lamination or film, on the inside of the container.
Insulating layers must ensure that the materials can achieve an electrical
breakdown voltage of ≤ 6kV.
Multilayer materials must remain in firm contact during filling and emptying operations, typically meaning a tightly constructed bag.
Materials that are used to create inner baffles must be the same material used to create the major panels of the FIBC bulk bag.
Baffles used sparsely to improve the bag's stability and make load movement easier must adhere to those requirements unless they're used to form mesh or net baffles.
One of the chief benefits of these Type D bags is that they do not require internal conductive yarns to be interconnected so that they pose less of a risk of human error compared to some other FIBC bulk bags.
Type D bags are some of the most versatile, with the FIBCA noting:
| | | | |
| --- | --- | --- | --- |
| Bulk Product: MIE (Minimum Ignition Energy) of Dust | Non-Flammable Atmosphere | Explosive Dust Atmosphere | Explosive Gas and Vapor Atmosphere |
| MIE > 1000 mJ (mega Joules) | Yes | Yes | Yes |
| 1000 mJ ≥ MIE > 3 mJ | Yes | Yes | Yes |
| MIE ≤ 3 mJ | Yes | Yes | Yes |
Type D bags have stringent testing requirements, often of 50 ignition attempts made on each of the four walls of the bag. You're also required to make supplementary ignition attempts on any panel that's attached to the test FIBC bag, such as flags or flaps that cover a spout. The good news is that labels, document pouches and lifting straps don't need to be included in your testing.
Appropriate Linings for FIBC Type D Bags
Type D FIBC bulk bags are only able to use Type L2 linings and the combination of the bag and its lining must meet a variety of testing requirements before use. The chief testing requirements include that the liner cannot be removed from emptied FIBCs in hazardous or explosive atmospheres.
Type L2 Inner Liners
The Type L2 liner that can be used with Type D bags is a relatively straightforward lining. Its requirements are designed specifically to ensure protection in environments where grounding or earthing are not desirable. These requirements include:
All materials together must provide a surface resistivity on at least one surface of between 1.0×109 and 1.0×1012 Ohm per Square. This resistance is measured and assigned according to IEC 61340-2-3.
When constructed of a multilayered material, or if the material has one surface where the surface resistivity is greater than 1.0×1012 Ohm per Square, then the overall breakdown voltage through the material must be less than 4kV.
The thickness of any layer with a surface resistivity greater than 1.0×1012 Ohm per Square on the interior of the liner shall be less than 700 micrometers.
Type L2 liners can be used with Types B, C and D. The compliance for the L2 specification is preferred, because it reduced testing costs by requiring only the surface resistivity be measured.
Please note that, while Type L2 compliance is important, it is only part of the system-level compliance that must be met in the 61340-4-4 standard.
How Are Type C Bags Different than Type D Bags?
You might be considering an FBIC Type C bulk bag for your operations, but there are some significant differences that should give you pause. The chief difference between the two is that the Type C bulk bag needs to be grounded at all times in order to provide protections against explosive dust, gas or vapor atmospheres. There are also stricter rules of construction for a Type C bag, though it does have broader support for linings.
Important differences in the construction and design requirements of a Type C bag include:
The entire construction needs to be of conductive materials, if at all possible.
If the bag can't be entirely conductive, then it requires a full set of interconnected conductive threads, tapes or yarns. These conductive materials must be spaced no greater than 20mm apart if in traditional stripe patterns.
For conductive threads, yarns and tapes in a grid pattern, the separation between vertical or horizontal layers can be as great as 50mm.
The materials used to create inner baffles need to meet the same material requirements as the bag itself.
Its resistance to groundable point shall be less than 1.0×107 Ohm.
Resistance from any location on the FIBC to groundable point must meet the less-than-1×107-Ohm threshold.
Bags must be electrically grounded during filling and emptying.
They're commonly created with multilayered materials, with come with their own set of requirements. The most common is that the inside or outside surface needs to have a resistance of less than 1.0×107 Ohm. When that isn't possible for the inside layer, you'll need to prove that the material has a breakdown voltage of ≤6kV.
Type C and D bags can be used in many of the same scenarios, but Type C is designed for protection against electrostatic dangers, while incendiary discharge is a larger focus for Type D bags.
The Midwestern Bag & Supply Difference
Midwestern Bag & Supply is committed to making type D FIBC bulk bags that meet the highest standards for quality and affordability. At Midwestern Bag & Supply, we:
Protect your contents and assets because we manufacture every bag to strict hygiene rules in certified clean rooms.
Test every bulk bag for quality, so you can confidently store, lift and transport contents in a safe, secure and hygienic way.
Manufacture custom orders with printed text and custom logos of your choosing, including color logos.
Design bulk bags that protect contents from ultraviolet light exposure.
Receive certification from numerous safety and quality organizations, including FSSC 22000, BRC (GFSI recognized), AIB, HACCP and ISO 9001:2008.
Save Floor Space With Our Stock and Release Program
At Midwestern Bag & Supply, we understand that floor space is at a premium at warehouses across the nation. If you have storage and warehousing concerns, ask a sales representative about Midwestern Bag & Supply's stock and release program. We'll store your bulk bag order and release your delivery when you need it, so you can maximize your storage resources.
Contact a Midwestern Bag & Supply Representative
Midwestern Bag & Supply is ready to answer your questions about our type D FIBC bulk bags. One of our strategically located distribution centers is ready to deliver your order promptly. Need a custom design? We can help — just ask.
Call Midwestern Bag & Supply at 877-311-3422.