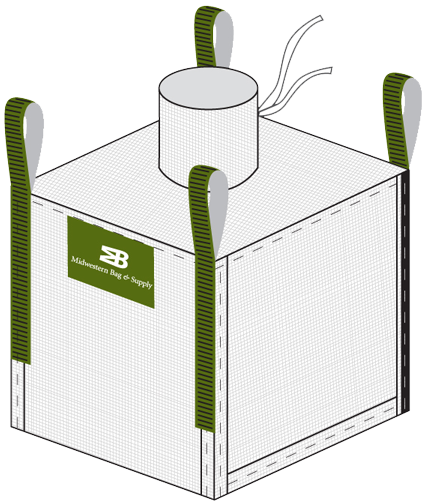 Type C Bulk Bags
Midwestern Bag & Supply constructs our type C FIBC bulk bags with 100 percent virgin polypropylene, and are suitable for storing and transporting dry products from 2000 to 4000 pounds.
In addition to our in-stock groundable FIBC bulk bags, we can also customize a type C bulk bag for your specific needs. This packaging solution is a safe and cost-effective way to store, lift and transport combustible and flammable materials.
Type C Groundable Bulk Bags From Midwestern Bag & Supply
Conductive strips interwoven throughout our type C FIBC bags protect your contents and the rest of your stored assets safe from static electricity and fire. Our conductive FIBC bulk bags feature:
4-Panel construction with an enhanced square filling shape, independent panels and a sturdy base for safe transportation
A baffled design that allows for secure stacking, saves valuable floor space and increases loading capacity
Customization options that help you meet your precise storage and transport requirements
U-Panel designs that maximize your bulk packaging budget to maintain the integrity of the bag's original size
Circular designs that are versatile at the most cost effective rate
Electrostatic FIBC Classification for Type C
Type C bulk bags are those designed with grounding in mind, and with an ultimate goal of preventing and minimizing electrostatic hazards. They can be used in almost all hazardous areas and must be grounded, so it is often a best practice to treat them as a metal drum.
The standard requires that these bags be built entirely from conductive materials, or at the very least, they must contain a system of fully interconnected conductive threads or tapes. If the threads or tapes are in a stripe pattern, they must be closer than 20mm apart. The gap can extend as far as 50mm if they are placed in a grid pattern.
A few other elements of the electrostatic FIBC classification for Type C bags include:
Requires a material resistance to groundable point of <1.0×107 Ohm.
It must present resistance from any location on the FIBC to the groundable point of <1.0×107 Ohm.
Are approved for use even in the presence of flammable vapors and gases.
If using when combustible dusts are present, they must have an MIE ≤3mJ.
For use such as filling and emptying, the bag must be electrically grounded.
Bags constructed of multilayer materials will need to have at least the inside or outside surface of the FBIC presenting a resistance to ground of less than 107 Ohm.
For multilayer-constructed bags whose inside layer doesn't meet the 107 Ohm resistance requirement, the material needs to have a breakdown voltage of ≤6kV.
Materials used to craft inner baffles that are not mesh, or net baffle designs, must meet all of the other Type C requirements.
It's important to remember that Type C bags, when left isolated from the ground, may pose greater ignition risks than Type A or Type B FIBCs.
Acceptable Inner Lining Types for Type C FIBCs
The only permissible inner lining types for a Type C FIBC is a Type L1 and L2 inner liner. Like the Type C requirements, inner liners must meet the requirement of a resistance to groundable point of <1.0×107 Ohm.
Type L1 Requirements
These liners are made from materials that provide a "surface resistivity" on at least one surface, which must be less than or equal to 1.0×107 Ohm per Square. This is measured by guidelines provided in the IEC 61340-2-3. If you're using a multilayered material or if the surface resistivity doesn't meet the above standard, you'll have to ensure that the overall breakdown voltage through the material is < 4kV.
Type L2 Requirements
As with the Type L1 liners, the materials in your Type L2 lining will have to exceed many of the standards of the overall Type C FIBC bag itself.
Some of the important requirements to remember is that the surface resistivity of a Type L2 lining must reach between 1.0×109 and 1.0×1012 Ohm per Square on at least one surface. Multilayered materials will need to have a surface resistivity greater than 1.0×1012 and the breakdown voltage will need to be less than 4kV.
This lining also has some additional construction requirements. The chief thing to remember for your Type C FIBC bag is that the thickness of any layer that has a surface resistivity greater than 1.0×1012 per Square on the inside will need to be less than 700 micrometers, according to the FIBCA.
Grounding Your Type C Bag
FIBC Type C bags are also commonly referred to as groundable FIBC bags, because they must be grounded in order for you to safely transport flammable powders and other dangerous elements. The multilayer materials, typically interwoven with conducting yarns, have a variety of standards that will protect you when properly followed.
Grounding the bag itself depends on the specific bag you're using and the materials it is made of, both internal and external. Typically, the conductive yarns will need to be part of an interconnected system (noted in the requirements above) and then these yarns are clamped and connected to a predetermined ground or earth-bonding point.
Your grounds or earth-bonding points must themselves be connected to another system ground whenever you are going to fill or empty the bag.
Because the panels of a Type C bag are often sewn together by hand, it is always recommended that you test and monitor the grounding capabilities of the bulk bag during its operation. Human error is always possible with manual tasks, so most companies employ a monitor that has multiple output contacts and has an option to work in multiple atmospheres or environments.
How Does a Type D Bag Differ from a Type C Bag?
FIBC bag types differ based on their construction, intended operation and performance requirements. While the Type C bag focuses on grounding and electrostatic hazards, the Type D bag is designed to control discharge incendivity without earthing.
Grounding typically won't have any effect on a Type D bag, so the surrounding plant must be grounded to prevent isolated conductors.
To meet that separate use, the bags will have different construction requirements. The biggest differences between it and a Type C bag can be found in these stipulations and uses for a Type D bag:
Intended operation is in the presence of flammable vapors, gases or combustible dusts with MIE ≤3mJ.
Type D bags require materials to have an insulating layer — such as a coating, lamination or other film — on the inside of the container.
Electrical breakdown voltage must be ≤ 6kV.
Inner baffles other than mesh and net baffles will have the same material requirements as the major FIBC panels.
Multilayer materials all must remain in firm contact during filling and emptying.
Type D bags are also limited to only operating with a Type L2 liner.
The Midwestern Bag & Supply Difference
Midwestern Bag & Supply is committed to providing businesses with high-quality, cost-effective bulk packaging and transport products that meet diverse needs.
We design our type C bulk bags to work with a broad range of storage, lifting and transport options, but we can create a flexible container for your specific needs.
Our manufacturing process protects product hygiene, and every bulk bag is created in a certified clean room.
Midwestern Bag & Supply tests every order for quality, ensuring that the contents in and around the bag are safe and hygienic.
We can print your bags with the text or custom logo of your choosing, including color logos.
Our bulk bags protect your contents from damage or degradation caused by ultraviolet light exposure.
Our bags are certified by the industry's leading safety and quality organizations, including FSSC 22000, BRC (GFSI recognized), AIB, HACCP and ISO 9001:2008.
Save Space and Resources With Stock and Release
An outstanding, industry-leading product and superior customer service make Midwestern Bag & Supply a leading choice for selective, budget-minded business owners across the nation. If you are concerned about storage and warehousing, ask us about our stock and release program. Our stock and release program warehouses your order and delivers it to your location when you need it, saving you space and money.
Speak to a Midwestern Bag & Supply Representative
Get in touch with Midwestern Bag & Supply to learn more information about our type C groundable FIBC containers. Our distribution centers, located nationwide, are ready to deliver your order promptly.
Call Midwestern Bag & Supply at 877-311-3422.