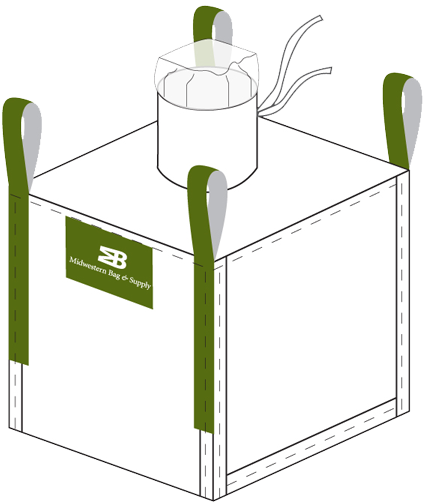 Food-Grade Bulk Bags
If your packaging needs include bulk bags for food processing, get in touch with Midwestern Bag & Supply. We design and manufacture FIBC bulk bags for food processing that meet stringent FSSC 22000 & FDA standards. Our food-grade Flexible Intermediate Bulk Containers feature 100% virgin material and are manufactured in certified clean rooms, with machinery sanitized with food-grade grease and cleaners. When you choose Midwestern Bag & Supply, you'll save time and money because our food processing bulk bags are built to last.
Midwestern Bag & Supply Is the FIBC Manufacturer You Can Trust
A commitment to superior craftsmanship and using the highest quality materials mean you can trust Midwestern Bag & Supply with all your food processing packaging needs. When you choose Midwestern Bag & Supply as your FIBC supplier, you'll get:
Bulk bags made from 100% virgin woven polypropylene. Long recognized as the industry standard for quality and durability, we construct food-grade FIBC bulk bags with strong virgin fibers. Virgin woven polypropylene protects your dry goods better because it resists failure compared to others using additives to achieve a lower price. It's also strong enough to hold up during storage, lifting and transport. Midwestern Bag & Supply gives you more for your money with every order.
Bags FSSC 22000 certified with FDA approved fabrics for safety and quality. Midwestern Bag & Supply manufactures food-grade bulk bags in certified clean rooms that meet the very highest in hygienic standards. We test, vacuum and metal and light-detect every bag prior to shipment to protect against contamination, and we personally inspect your order to ensure it meets our rigorous standards for quality.
Bulk bags that maximize capacity and strength with outstanding design. When you choose Midwestern Bag & Supply as your bulk bag supplier, your business will gain cost effective FIBCs that hold more and stand strong. From stacking and storing to lifting and transporting, you can count on Midwestern Bag & Supply.
Discover the Midwestern Bag & Supply Difference
Businesses from a diverse range of industries choose Midwestern Bag & Supply because:
Our products are worth the money. The time and materials we use to craft the industry's best FIBCs pays off for your business. Our trained employees understand quality design and construction, and they also know why food-safe design is absolutely essential. With better materials and superior design, it's no wonder excellence is our standard, and perfection is our goal.
We customize designs. If you've viewed our inventory of food-grade bags and can't find the right design, call us and ask for bag diagnostics. This free program lets you customize a design that meets your precise specifications.
Safety and quality are our top priorities. Our bags are certified by the industry's leading safety and quality organizations, including FSSC 22000, BRC (GFSI recognized), AIB, HACCP and ISO 9001:2008.
We offer stock and release. If you're concerned about storage space, then let us worry about it. We'll hold on to your order and deliver it when you're ready.
Midwestern Bag & Supply is ready to meet your food-grade bulk packaging needs.
Call a sales representative today at 877-311-3422.