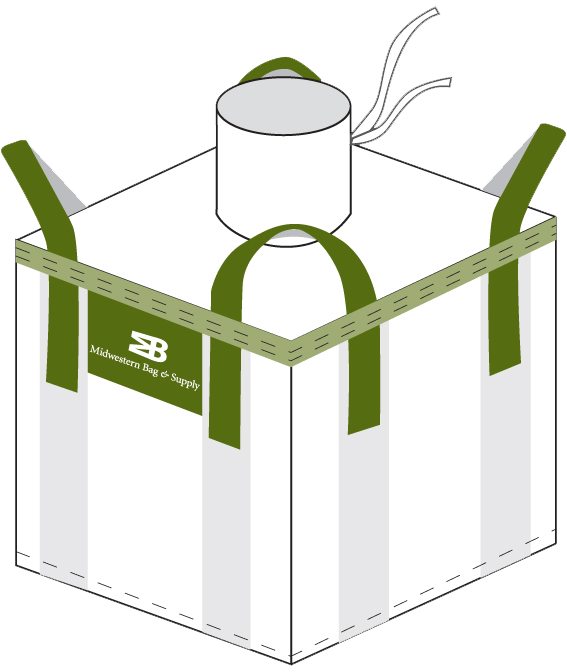 Circular FIBC Bulk Bags
Midwestern Bag & Supply is the circular bulk bag supplier that designs and manufactures packaging solutions that meet a diverse range of industrial needs. Available with or without a liner, and also in coated or non-coated fabrics, our circular FIBC bulk bag options offer incredible versatility and outstanding quality.
Every circular woven bulk bag we construct is made from 100 percent polypropylene to the most rigorous manufacturing standards while providing superior value to our customers. Explore our inventory, and find out why Midwestern Bag & Supply is the circular woven bulk bag supplier leading U.S. companies depend on.
Incredible Versatility in a Durable Package
Our large inventory of circular bulk bags includes flexible packaging options that safely and securely transport up to 4,000 pounds. Midwestern Bag & Supply designs:
Circular bulk bags made with a strong, spacious innovative designs. Our bags maintain their shape and maximize your load capacity, allowing for safer stacking, lifting and transporting.
FIBCs that let you stack one atop the other, safely saving you valuable floor space.
Food-safe, flexible storage manufactured to stringent FSSC 22000 and BRC standards. Midwestern Bag & Supply makes every food-safe bag on machinery cleaned with food-safe lubricants and cleaners, in certified clean rooms. We also metal-detect and vacuum every bulk bag before packaging.
Nonflammable and antistatic bulk bags. Stack, store, lift and transport dry goods no matter what the environment with bulk bags that resist shocks, sparks and fire.
Customized circular bulk bags that meet your specific needs. Ask us how we can create the circular bag you want, including printing custom text and logos in color.
Quality, Safety and Value Are Our Top Priorities
Fortune 500 companies choose Midwestern Bag & Supply because:
We test our bags to meet and exceed incredibly high standards for quality. Midwestern Bag & Supply manufactures our bags using 100 percent polypropylene. Many of our bags achieve a minimum 5:1 ratio, and are reusable.
Our bags protect your contents from ultraviolet light damage.
We earn certifications for safety and quality, including FSSC 22000, BRC (GFSI recognized), AIB, HACCP and ISO 9001:2008.
We let you store your unused bags with us. Ask us about our stock and release program, which lets you store your order with us and get delivery when you need it.
We are your complete source for flexible packaging solutions, from U-Panel FIBCs to Hay Bale Sleeves, emergency sandbags, BOPP bags and more.
Call a Midwestern Bag & Supply Representative for More Information
Midwestern Bag & Supply operates several distribution centers across the U.S., allowing us to deliver your order promptly. Call us to learn more about our in-stock circular bags or to let us design the circular bag that works best for your storage, lift and transport needs.
Call Midwestern Bag & Supply at 877-311-3422.