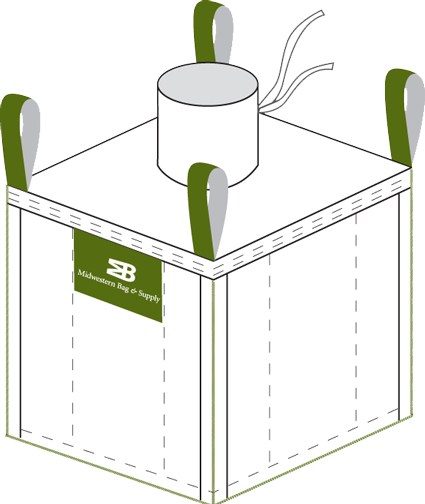 Baffled Bulk Bags
When you need a Flexible Intermediate Bulk Container you can fill to maximum capacity without bulging, get in touch with Midwestern Bag & Supply. Midwestern Bag & Supply designs and manufactures FIBC baffle bulk bags that stay square and sturdy after filling, making them the perfect choice when you need to stack containers tightly for storage or shipping. We are a leading baffle bulk bag supplier in the industry because we manufacture every FIBC to stringent quality standards using the most durable materials. If you need a baffle q-bag supplier to meet your specific needs, call Midwestern Bag & Supply.
Midwestern Bag & Supply Is a Leading Bulk Baffle Bags Supplier in the United States
We supply a wide range of businesses around the world with cost effective packaging options, including FIBC baffle bags that exceed expectations for superior quality. Buy baffle FIBCs from Midwestern Bag & Supply because:
We make our FIBCs with 100% virgin polypropylene. Virgin polypropylene is strong on the molecular level, meaning it's best able to protect bag contents from contamination while resisting degradation. Tightly woven fibers increase the bag's strength, even allowing for the safe, spill-free transport of powder-fine contents.
Our bags stay upright and rigid when full. If you've ever used a subpar bulk FIBC baffle bag, then you know how frustrating it is when a container bulges at the bottom, disallowing safe and sturdy stacking. When you choose Midwestern Bag & Supply, you can store, lift and transport your dry goods without worrying about instability.
We design our bags for maximum capacity and flexibility. Our baffle FIBCs can accommodate up to 4,000 pounds while retaining shape and strength, no matter the job. You'll also find that lifting and transporting our bulk bags is easy. Need extra storage space? Our sought-after baffle design frees up storage space and increases storage capacity.
The World's Leading Businesses Choose Midwestern Bag & Supply
Industry-leading businesses of all sizes from around the world count on Midwestern Bag & Supply because they can count on us to provide a high-quality, cost effective packaging solution to their most challenging storage and transport questions. Choose us, and you'll see why excellence is our standard, and perfection is our goal:
We have a wide inventory, but we can customize for your specific needs. Review our in-stock options first, but don't hesitate to ask if you need a custom design. We can tailor a packaging solution for your specific needs. Call us and get free bag diagnostics as well as all your questions answered.
We manufacture all of our bags in certified clean rooms, and we inspect every order in person before it leaves our manufacturing center. Does your business require food-grade or other specialized packaging requirements? We can help.
The best organizations across several industries certify our bags for safety and quality. Our bags are certified by the industry's leading safety and quality organizations, including FSSC 22000, BRC (GFSI recognized), AIB, HACCP and ISO 9001:2008.
We can help with storage. If you need to buy bulk FIBC baffle bags but don't have room for them, let us store your order in our warehouse. We'll release it when you need it so you won't have to worry about storage space.
Midwestern Bag & Supply delivers in-stock and custom orders promptly.
Call a sales representative today at 877-311-3422.