What Is an FIBC?
The term, "FIBC," is shorthand for "flexible intermediate bulk container."  FIBC is used to refer to different types of bulk tote bags and the other styles of bulk bags that companies use to store and transport free-flowing dry products and other materials. FIBC bulk bags are normally made using woven polypropylene, and they can usually hold between 2,000 – 4,000 pounds of product per bag. In addition to being known as bulk bags, flexible intermediate bulk containers are often commonly referred to as "big bags" and "bulk sacks."
FIBC Bulk Bags at Midwestern Bag & Supply
Explore our inventory of FIBC tote bags for sale and you'll understand why the world's biggest businesses turn to us when they need strong, secure and safe flexible storage. We manufacture every new storage solution with 100% virgin polypropylene, widely recognized as the material most likely to safely prevent contamination and degradation. Our comprehensive product catalog includes diverse bags that meet the storage, lifting, stacking and transport needs across a broad spectrum of industries. From feed to pharmaceuticals to fertilizer, there is a bulk container solution for your business at Midwestern Bag & Supply.
When your business needs a cost-effective approach to bulk packaging that maintains shape integrity, get in touch with Midwestern Supply & Bag. We manufacture and stock several FIBC tote bags to meet your storage, lift and transport needs.
Our U-panel bulk bags offer:
A U-panel design that maximizes load capacity, boosting cost effectiveness. This design also permits safer stacking, lifting and transport because it maintains shape.
A baffled design that preserves valuable floor space because it permits safer stacking.
The option to purchase food-safe U-panel bags that meet stringent FSSC 22000 and GFSI standards. We manufacture every food-safe FIBC bulk bag in a certified clean room on machinery serviced with food-safe cleansers and lubricant.
The option to purchase containers made with nonflammable and antistatic construction. Assure the safety of your employees, goods and property with bulk bags that won't cause fires.
Customization options. Print logos and/or text on your bag, or ask us about designing a custom bag for your precise needs.
If you need a versatile design that works with and without a liner for finer or hygroscopic products, explore our inventory of circular bags, available in coated and non-coated fabrics. Our circular bag provides incredible versatility, plus the option to use coated or uncoated fabrics. Made from virgin woven polypropylene, our circular bags can securely transport up to 4000 pounds. We can make circular custom FIBC bags, too — simply ask.
Our circular panel bulk bags offer:
A spacious design that's also incredibly strong, and able to maintain its shape during stacking, lifting and transporting. Stack our circular bags and preserve valuable warehouse space with ease. Don't forget to ask us about our stock and release program!
Food-safe storage. The latest FDA rules put the focus on contamination prevention versus mitigation. Our food-safe circular panel bulk bags prevent moisture and ultraviolet light from damaging contents. They also meet and/or exceed FSSC 22000 and GFSI standards. We clean every food-safe bag thoroughly prior to delivery.
The option to purchase Type C, Type D and UN-certified bulk containers made to nonflammable and/or antistatic construction standards.
The option to customize your bags with logos or text. You can also ask us about designing a custom-built bulk bag that meets your specific storage and transport needs.
Our 4-panel bulk container is the perfect choice when you need to store and move free-flowing dry goods. Make the most of every 4-loop FIBC with our 4-panel bag, designed to maintain an optimal base for safe transportation while maintaining the desired shape. Each 4-panel FIBC, made from virgin woven polypropylene, resists degradation of contents, stays stable when filled, and is reusable for maximum cost effectiveness.
Our 4-panel bags:
Protect your dry goods from contamination and degradation. Virgin poly prevents moisture, ultraviolet light and other contaminants from damaging contents. Because our bags are strong enough to use again, you'll save time and money with us.
Reduce spillage and save floor space. Buy a 4-panel FIBC that maximizes storage capacity and reduces the risk of spillage. You'll also appreciate that our sturdy FIBCs stack securely, assuring you can make the most of valuable storage space.
Meet diverse needs. Midwestern Bag & Supply manufactures 4-panel FIBCs that meet the strictest international standards for safety and quality. Ask us about ordering 4-panel bags in the Type C, Type D and UN-certified categories. We also manufacture food-safe containers made in certified clean rooms to the highest  FSSC 22000 and GFIS standards.
Are available for customization. Whether you want 4-panel bags printed with your logo or text, we can help. Ask us about customizing a 4-panel bag for your specific needs! We deliver custom orders promptly.
Nothing is more frustrating than using a FIBC only to discover it isn't safe for stacking or transporting because the sides bulge after filling. Our 4-loop FIBC bulk bag features a sought-after baffled design that allows for superior stackability, because we design our containers to stay square after filling. They're they perfect choice when you need to tightly stack and store containers for shipping. Save floor space and increase loading capacity with our baffle bags, available in U-panel and 4-panel designs.
Our baffle bulk bags:
Are made from pure virgin woven polypropylene. Our bags are stronger, right down to the molecule. Not only will your baffle bulk bags protect your contents from degradation and contamination, they'll stay rigid and stable when full.
Save space. You know storage space is valuable. Our baffle design allows you to take advantage of every square inch in your warehouse or storage room. Sturdy construction lets you move the baffle bags with ease, and because they safely accommodate up to 4,000 pounds, you can put more into fewer bags.
Are completely customizable. We have a huge inventory of baffle bulk bags made for a wide range of industries, but let us know if you don't see the model you need. We can customize a baffle bag for your specific machinery, contents and environment, and we can also print logos and text on every bag in your order.
Are certified for safety. Ask us why we're a leading supplier of FIBC bulk bags, and we'll tell you it's because the leading organizations in storage and supply certify our bags for cleanliness and safety. Ask us about food-safe storage, Type C and Type D storage, and UN-certified bulk bags.
Midwestern Bag & Supply follows stringent FSSC 2200 guidelines, GFSI recognized and FSMA compliant when we manufacture our diverse selection of food-safe FIBC bags for sale. Made from 100 percent virgin material, our food-safe FIBC bags are constructed in certified clean rooms, then vacuumed and metal-detected before packaging. We use food-grade grease and cleaners on all machinery prior to manufacturing.
Our Food-Safe bulk bags offer:
100% woven polypropylene construction. Unlike cheaper food-safe bags that contain additives, our virgin polypropylene bulk bags are better able to resist degradation and contamination because they resist failure during storage and transport. You'll get more for your money with every order.
The option to customize your bags with logos or text. Keep your warehouse organized with printed food-safe bags that make it easy to identify your different products when your product is packaged.
A huge inventory, but the option to go custom. Midwestern Bag & Supply stocks food-safe FIBCs in numerous sizes, but if you don't see the size you need, simply ask — we can help.
Safely store and transport combustible and flammable materials with our type C bags, woven with conductive strips that prevent dangerous sparks and fires.
Our type C groundable bulk bags:
Are made from 100% virgin polypropylene. These bags can store and transport from 2,000 500 to 4,000 pounds safely and securely.
Offer circular, U-panel, 4-panel, baffled construction. This design maximizes loading capacity and assures stability while preserving shape.
Can be printed with logos and text, and customized to meet specific packaging solution requirements.
With an impressive 25-year safety record, our antistatic bulk bags are the flexible packaging of choice for Fortune 500 companies across the nation. Count on Midwestern Bag & Supply to safely store, lift and transport your goods in environments where highly flammable materials are present in the air.
Our type D antistatic bulk bags:
Are so good, they're patented. Our CHROMIQTM bulk bags safely store goods in environments where dangerous gases, vapors and dusts are present because they dissipate electrical charges. Store and transport dry products safely even when flammable compounds such as methane, fertilizers, corn starch and ethylene are present.
Offer circular, U-panel, 4-panel, baffled construction, customizable construction. Our bulk bags enhance storage capacity but retain their square shape, for safer stacking and transport.
Meet strict standards for quality, and can be custom made for your specific application. Ask us about designing a type D bulk bag for your precise requirements
For your packaging Groups II and III, ask us about our tested and certified UN FIBCs. Our UN-Certified bulk bags meet strict DOT standards and are suitable for transporting hazardous chemicals.
Our UN-certified bulk bags:
Are made with the best materials in the industry. The construction of our virgin woven poly FIBCs prevent spills, degradation, contamination and weakness, even under challenging conditions.
Meet a minimum 6:1 safety factor.
Pass rigorous testing for dropping, stacking, toppling, tearing and more prior to shipment.
Come in stock and custom sizes.
Top and Bottom Types for Bulk Bags
In addition to being differentiated from one another based on their ability to guard against the buildup of static electricity and their construction, bulk bags can be distinguished based on other factors. These factors include the type of top and bottom a bag has.
Common tops found on bulk sacks include the following:
Duffle Tops: A duffle top can be added to any kind of bulk bag, including circular and U-panel bulk sacks.  A duffle top provides a bag with a fill opening that has the same width and depth dimensions as the bag it is on. This kind of versatile top works well with many kinds of filling machines and is useful in many filling procedures. Once a bulk bag is filled, the duffle top is closed to protect the product in the bulk sack.
Spout Tops: Spout tops help to reduce the amount of dust that is generated when a bag is being filled. A bag with a spout has a chute on its top that product runs through to fill the bulk bag. While spouts can be customized to suit your specific needs, the bulk bag industry does have standards for the most frequent applications, with the most common measure being 14-inches in diameter and 18-inches in length.
Open Tops: Open top big bags are exactly what they sound like: open. They don't have a top panel to cover the contents and are, therefore, generally easy to fill with products that don't need to be protected from external elements.
Depending on a variety of factors, the FIBC you need may have one of the following bottoms:
Spout Bottom: Spout bottom bulk sacks have a spout on their bottom that is used to empty whatever product the bag is holding. The most common dimensions for a spout on the bottom of a bulk bag are the same as the ones used for a spout on the top of a bulk sack.
Plain Bottom: If a bulk bag has a duffle top and a plain bottom, it's normally emptied through its duffle top or cut open to remove its contents from the bottom. Bags with this type of bottom are typically used just one time.
Full Bottom: A full bottom discharge bulk bag has a spout that's used for emptying the bag, and it has the same characteristics of the bag itself. This sort of bottom is appropriate when a bulk bag is being used to store or transport materials that clump together into masses.
FIBC Bulk Tote Bag Dimensions
Midwestern Bag & Supply designs and manufactures a broad range of bulk container solutions in numerous sizes. Our huge inventory features many sizes, but don't hesitate to ask us about a size that isn't listed. We're happy to build a custom FIBC that meets your precise needs.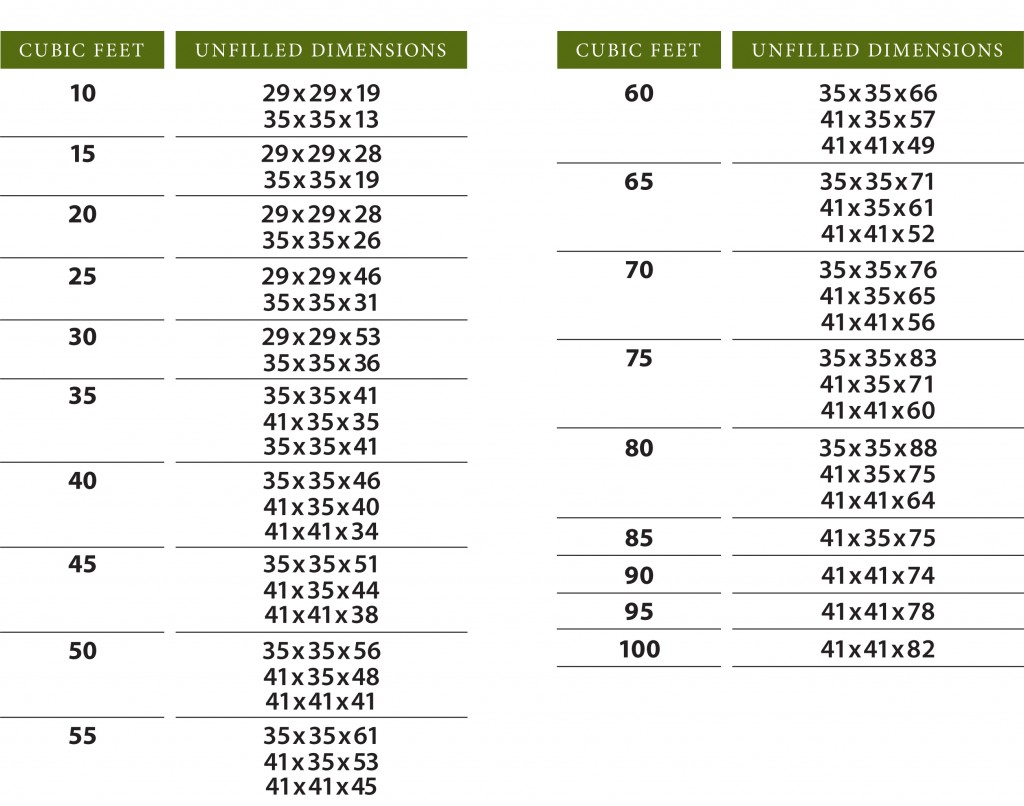 The Midwestern Bag & Supply Difference
Midwestern Bag & Supply is committed to your satisfaction. We offer:
Stock and release. Save floor space and let us store your order. We'll deliver it when you need it from one of our conveniently located distribution centers.
Complete customization, including color printing. Don't see what you need in stock? Ask us about customizing an order for your specific needs. We can also print text and logos in color.
Bags that protect contents from ultraviolet light exposure.
Certifications from leading safety and quality organizations, including FSSC 22000, BRC (GFSI recognized), HACCP and ISO 9001:2008.
FIBC Bulk Bags Today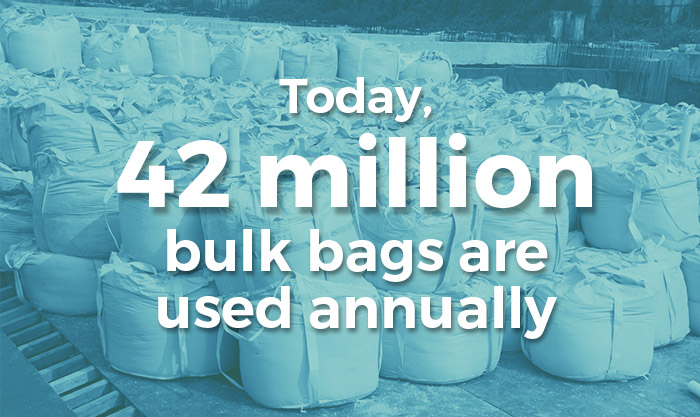 In recent years, advances in the bulk bag industry have enabled bulk bags to be used for applications in addition to just their traditional ones. The use of bulk bags in commercial settings is becoming increasingly common for a host of reasons, including the potential cost savings, the increased safety and the affordable packaging and storage options they provide. Over the past decade, the use of bulk bags has increased steadily, with a yearly growth rate of approximately 15 percent. Today, 42 million (estimated US consumption) bulk bags are used annually.
How to Order FIBC Bulk Bags
If you're curious about how to order FIBC bulk bags, Midwestern Bag & Supply makes it easy to get the bulk sacks you need to help your business thrive and possibly reduce its operating expenses. While FIBCs are available in standard unfilled dimensions that range from 29x29x19-inches up to 42x42x90-inches, we can work with you to customize a bag to fit the particular measurements you need if the standard dimensions aren't appropriate for what you're going to use bulk bags for.
If you're worried about how to store bulk bags properly to preserve their working life, you don't have to be because you can take advantage of our stock-and-release program. By doing this, we'll store your FIBC bulk bags and ship portions of your inventory to you on an as-needed basis.
If you need bags to transport hazardous materials or you want to use your bulk bags to promote your business, we can print the appropriate labels on your bags for you. If you're new to packaging and are unsure what your options are, our seasoned, friendly sales staff will help determine your exact needs and identify the bulk bags that are best suited to your products and purposes.
We make it easy to order bulk bags from Midwestern Bag & Supply. You can request a quote using our website and contact us online whenever you have a question. Our helpful customer service representatives are available to handle all of your needs from 8am until 5pm CST, Monday through Friday every week. Our system is designed to let you trace the origin of your bulk bags all the way back to the fabric lot that was used to create each one, so you'll always know your FIBCs are made using the finest materials available.
Let us focus on your FIBC needs while you focus on your business. Contact Midwestern Bag & Supply today at 877-311-3422