Bulk Sandbag/FIBC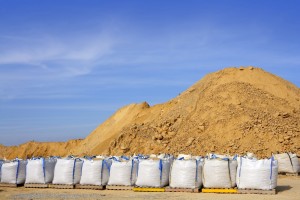 Bulk bags have become a widely used means of packaging during emergency flooding situations due to their versatility. Each of our specially designed bulk sandbags can hold in excess of 3,000 lbs. and can be filled in just minutes.
Benefits
Saves time compared to traditional hand filling methods
Reduces the helped needed by fractions during fill and barricade setup
Less packaging is required and in return saves money
Bulk Woven Polypropylene Sandbags 
When high water threatens life and property, you need emergency flooding sandbags that are strong enough to withstand the strongest weather Mother Nature can bring. Midwestern Bag & Supply is the sandbag supplier you can count on to manufacture the toughest, most durable sandbags. We craft our woven polypropylene sandbags from 100% virgin fibers, making them durable and reliable. Buy polypropylene sandbags at wholesale prices from Midwestern Bag & Supply, and you'll find out why excellence is our standard, and perfection is our goal. Emergency Bulk Sandbags for Every NeedBusinesses of all kinds and sizes trust Midwestern Bag & Supply with their bulk packaging needs because we construct every bag we make to the highest industry standards:
REQUEST A QUOTE
Our sandbags are made from the strongest, most durable materials. Our tightly woven, virgin fiber bags are so strong and dense that they're even suitable for transporting fine powders such as flour. Whether you prefer our 14" x 26" tie-string bag or our bulk FIBC sandbag, you'll get UV protection that helps prevents degradation and a tight weave.
Our bulk sandbags fill quickly and hold over 3,000 pounds. Fill our bulk FIBC sandbags fast and protect life and property quickly. With bulk FIBC sandbags, you'll save precious time because you can fill our bags faster than by hand and set up barricades more quickly. Bulk FIBC sandbags also save you money because there are fewer packaging costs.
We can manufacture custom sandbags to meet your specific needs. If our standard and bulk sandbags don't meet your needs, ask us about custom options. We design and manufacture woven polypropylene bags for a wide range of specifications.
Leading the FIBC Industry With the Highest Quality Packaging Solutions
Midwestern Bag & Supply is an industry-leading supplier of high-quality packaging solutions because we make exceeding customer needs our priority with every order. When you buy woven polypropylene bags from Midwestern Bag & Supply, you'll work with:
A supplier that provides cost effective packaging solutions to a diverse range of businesses around the globe. From food-safe bags that meet stringent FSSC 2200 and FDA rules to antistatic FIBCs to bags that transport hazardous materials, Midwestern Bag & Supply is renowned for quality and durability.
A manufacturer that's earned certifications by meeting or exceeding rigorous standards set by industry organizations. Midwestern Bag & Supply has earned certifications including FSSC 22000, BRC (GFSI recognized), AIB, HACCP and ISO 9001:2008. We manufacture our bags in certified clean rooms, and we care for our equipment with food-grade grease and cleaners.
A manufacturer that appreciates your storage needs. Ask us about our stock and release program, which lets you store your order with us until you need it. When you're ready, we'll release your order to you.
14" x 26"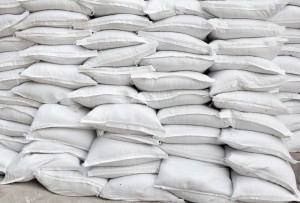 Conventional 14"x26" polypropylene sandbags are a necessity for barricading high water levels. Whether for emergencies or for everyday use we craft our sandbags from durable polypropylene to stand the test of time.
How to Use Emergency Sandbags
Midwestern Bag & Supply is proud to sell polypropylene sand bags wholesale because we know how valuable they are in protecting lives and property. Offering our woven polypropylene sand bags wholesale allows us to help get emergency flooding sandbags to the people who need them the most. However, it's not enough to just have sandbags — it's important to know how to use them to protect your family and your home.
Fill your sandbags about halfway with sand or soil. Fold over the top and rest your sandbags on the folded top when stacking. Do not build a uniform wall of sandbags all around your house. This "fortress" configuration can actually result in trapping water between your home and the sandbags, making the situation worse.
Instead, place the first row of sandbags tightly together in front of doors, low windows and anywhere else floodwaters may become a danger. Then place more bags on top of these bags asymmetrically, just as if you were laying bricks and making a brick wall. When the bags are a sufficient height, you can do a second layer behind the first, although you should do no more than that, unless you are backing the bags directly against the side of the building or you are stacking them up and down in a pyramid-like formation.
This arrangement should effectively divert the better part of any water or debris caused by torrential rains and flooding away from critical areas of your home. Once your sandbags have protected you from severe weather, you will need to dispose of them, as they may now be contaminated by sewage or bacteria from the water they have taken on. Be sure to wear protective gloves. You can take your bags to a recognized hazardous waste disposal center or clean the sand and use it to enrich the soil of your lawn or garden.
To protect vents, low windows and doors — including garage doors — you can cover them with baffle boards, ¾-inch sheets of plywood covered in felt or foam rubber. These boards go over entry points to your home and form a seal so water cannot get in. Once the danger has passed, you should remove the boards immediately, as they will interfere with the ventilation coming into your home.
By combining our quality polypropylene sandbags with properly placed baffle boards, you should be fully prepared for any flooding emergency.
Description
Dimensions:14"x26"
Closure: Tie string
10×10 Weave
1250 Denier
UV Protected
Contact Midwestern Bag & Supply
Midwestern Bag & Supply delivers in-stock and custom orders promptly.
Call a sales representative today at 877-311-3422.