When you're looking to protect your property from water damage, sandbags are a strong first level defense. They help divert water and keep structures in place. Both bulk and standard 60lb. sandbags have become more common because of their size and versatility.
Sandbags are made of strong polypropylene material that's built to withstand a lot of weight, UV and can stack easily. This is why garbage bags and feed won't work if you're looking for floodwater defense. Garbage bags will rip, and they won't stack well. Feed sacks are too large to handle effectively without machinery.
Sandbags can help:
Support Trees. Sandbags placed around trees can prevent them from falling. When there are heavy winds and houses or power lines near the trees, you'll want something to help keep them upright.
Direct Water. If you need to guide water to a particular area, sandbags can help make the route. They'll divert the water in the direction you want.
Protect Your House or Business. If you're in an area that's expected to flood, placing sandbags around your doors and windows can help keep water out of your property.
Support Levees. Sandbags help protect levees because they can prevent overtopping and support them in case of a breach.
Sandbags are excellent tools that weigh down items you don't want to blow away.
Reduces Drainage. Sandbags prevent a lot of water seepage into critical structures.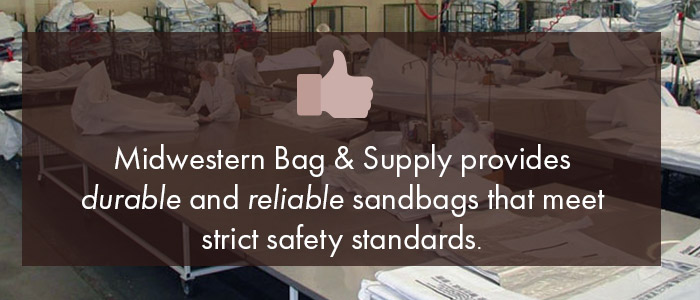 Midwestern Bag & Supply provides durable and reliable sandbags that meet strict safety standards at min order qty of one pallet. Our headquarters are in Des Moines, and we have distribution centers throughout the U.S. We're always ready to work with you and figure out what kind of bag is best for you.
Bulk Emergency Flooding Sandbags
Emergency flooding situations require sandbags that hold a lot of sand and that you can fill quickly.
Bulk sandbags meet these requirements because they hold about 3,000 lbs. and only take a few minutes to fill.
You save time with bulk sandbags, too, because you don't have to fill them manually. This means fewer people are needed when you're filling the bags and setting them up. With bigger sandbags, you don't need as much packaging, so this cuts down on costs. We maintain high-quality packaging solutions to get you the right supplies promptly.
Our bags come in many sizes, and your access to quality bags that will help you keep you and your home safe is one of our top priorities. Our conventional sandbag size is 14" x 26" and works well guarding against floodwaters.
Wholesale Woven Polypropylene Sandbags 
When you're facing extreme weather, you're going to need a tough defense. Emergency sandbags need to withstand water pressure and be durable to withstand the entire duration of the occurrence — flood, storm, etc.
Our sandbags are all made from virgin fibers, meaning they don't have alternative fibers. Using virgin fibers makes our products resilient and able to last a long time. They can handle a lot of stress and resist cracking.

Polypropylene bags are non-toxic, resistant to most acids and alkalis and are lightweight. You're going to want bags that are easy to handle and not worry about their chemical composition when you're trying to construct a protective barricade.
At Midwestern Bag & Supply, our slogan is "Excellence is our standard, perfection is our goal." That's why we sell our polypropylene bags wholesale because we know how important it is to get the right supplies to the people who need them. If you're about to protect your home from incoming water, you're going to need the right amount of emergency bags, too. About 25 sandbags or less can protect most houses.
Custom Sandbags
Our bags have a wide range of specifications, but don't worry if you don't think you've found what you need. If you don't think standard or bulk sandbags will get the job done for you, then we can make custom sandbags tailored to your unique needs.
We can design and manufacture bags that meet multiple industry requirements. All of our bags are virgin poly fiber that's built to be durable. Our bags also retain their shape and don't rip or leak. We're ready to work with you to make the perfect bags that meet your expectations.
How to Fill a Sandbag
While sandbags are a great defense against flooding, you need to know how to use them correctly. This is imperative to ensure your safety when dealing with sandbags and so your sandbags work as effectively as possible.
According to OSHA, there are safety standards for filling, transporting and placing sandbags:
Safety Precautions

Wear gloves because the bags could be chemically treated, and you'll need to protect your hands from floodwater and sand pollutants. Don't touch your eyes and mouth while doing this work, and make sure you wash your hand and face immediately after.
Use safety glasses, especially on windy days. You don't want to irritate or hurt your eyes because sand is blowing around. You should always have protective eyewear when you're working with equipment.
Wear waterproof work boots. When disassembling sandbag barricades, you might have to work in some floodwater. These will also work if you're setting up in the rain.
Wear waterproof protective clothing to minimize contact with your skin and floodwater. Layer your clothes and try to prevent as much contact with water as you can. Wear reflective clothing if you're working at night.
Have a personal floatation device if you're working near floodwater.
Once you have the safety guidelines, you're ready to start working with the sandbags.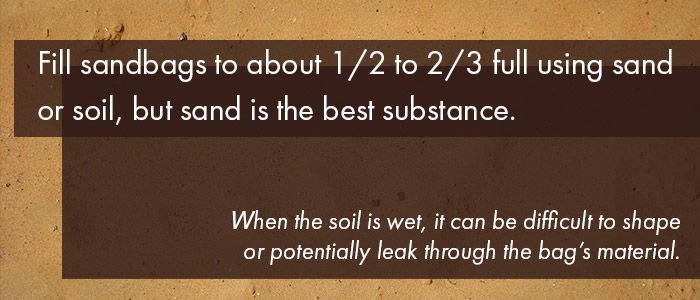 Lifting Sandbags

Fill sandbags to about 1/2 to 2/3 full using sand or soil, but sand is the best substance. When the soil is wet, it can be difficult to shape or potentially leak through the bag's material. Clay is also hard to shape, and you need to be able to smooth out the bags. Don't overfill the sandbags.
Keep the sandbag close and in front of you.
Don't reach, bend or twist when you're lifting a sandbag.
Always lift with your legs and not your back to prevent strain or injury.
Maintain a firm grip on the sandbag with your hands.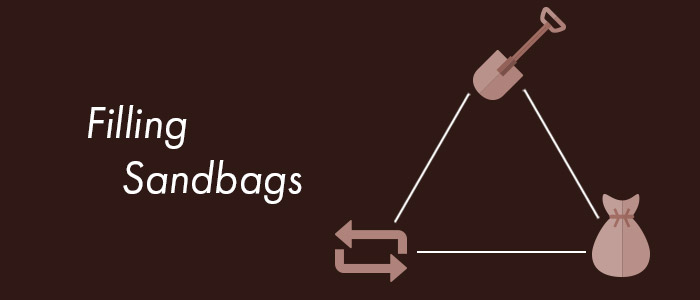 Filling Sandbags If you're filling the bags manually, a three-person team works best. Shift between the jobs around each half hour. Remember to take short breaks so you don't get exhausted:

This person's job is to hold the bags open and close them when they have the correct amount of sand.Baggers should open the bag outward and keep a firm grip so the bag stays open. Let the bag rest on the ground so it's just above your knees. When it's filled 1/2 or 2/3, fold the bag to close it. You should only tie the bag if it's necessary.
This person transports the sand into the bags.Your shovel should be a rounded point shovel with a short handle. You might want to consider using a funnel to help fill the bags. This would help catch spilling sand and fill the bags more quickly. Remember to bend your knees when you're shoveling to avoid muscle strain.
The mover takes the finished sandbags and goes to set them up.Movers can carry the bags at their waist with a cradle hold. You can also make transportation easier if you use pallets to move the sandbags.If the area where the sandbags will go is within seven feet, you can drag the bag. It has to be in a vertical position, and you should hold the folded end of the bag.
If you're passing off the sandbags in a line, stagger the people. Make sure you're facing each other to pass off the sandbags. Twisting and turning will strain your back.
Never throw sandbags bags because you could get injured or add unnecessary stress to your back and shoulders.
  You could also use an automated filling method:
The bag should be at waist height.
Support the bag with a pallet or ledge, so you can lessen the stress on your body.
Like manual filling, fold the bag closed and only tie it if you have to.
How to Stack Sandbags
When sandbags are filled and tied correctly, you can stack them to create a barricade. They mold with their surroundings, so there aren't too many gaps water could get through. While it won't be watertight, it can prevent a lot of water damage.
Before setting up the sandbags, you need to clear the area. Get rid of any debris or objects in the way. Look for low places in the area where you're building the barricade. Cover the low areas with sandbags first. When placing the sandbags, fold the unfilled end of the bag to make a triangle. If you have tied bags, try to flatten them as much as possible.
When setting up the sandbags, make sure they are parallel to the direction the water will flow and place the sandbags length-wise. Fold any flaps under the weight of the bag.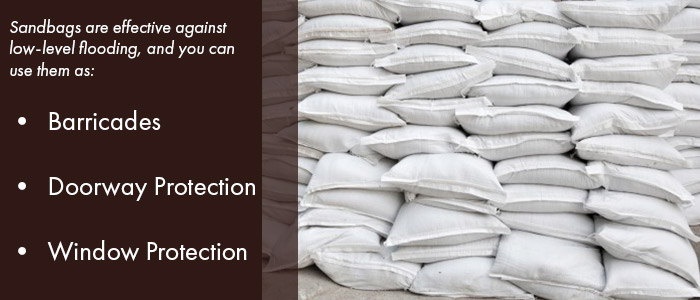 Your sandbag height should be above the water at all times. Check to see the projected water height and plan accordingly. Sandbags are effective against low-level flooding, and you can use them as:
The final shape should look like a pyramid. When building the barricade, lay the bags flat. Stagger the sandbags with each new layer to get the pyramid shape. After you place each sandbag down, flatten it, so the sandbag molds to the layer underneath. This way, you decrease the number of gaps in between the bags. After each layer is put down, flatten the row again to fix any leftover gaps. A flatter surface will allow you to build a more sturdy and balanced structure. Tuck any extra loose ends under the bags.
Doorway Protection. If you're using sandbags to protect doorways, you'll want to put a waterproof layer between the door and the sandbags. You can use a waterproof canvas or plastic. Tape it to the door frame to secure the layer. Leave some room at the top of the layer, so you can pull it over the top of the sandbags. Just like with the barricade, be sure stagger the sandbags and flatten them a bit. Once your sandbags are set up, pull the waterproof layer over the top of the sandbags.
Window Protection. Use the same method as you did with the doors to protect low windows. The first row of sandbags should be placed tightly in front of the low window. Then, place bags asymmetrically until you have a protective layer. The method is similar to bricklaying.
These stacking methods should divert most of the water and debris away from your home. You'll need to get rid of the bags after the flooding is over. They've been sitting in floodwater, which means they contain a lot of bacteria. When you dispose of the bags, you must wear protective gloves and make sure no skin is exposed. An official waste disposal center should take your sandbags. Contact your local township if you're not sure where to take them.
You also might want to consider other areas that need sandbag protection. Drains like in the shower or bath should have a sandbag on it. Look for any additional drains to cover. This will help stop contaminated floodwater from getting in through the pipes.
What Not to Do With Your Sandbags
To ensure your sandbags and your water diversion plan work as well as possible, keep in mind the following don'ts:
Don't Overfill Your Bags. If you overfill the bag with sand, you won't be able to close it properly. The bag won't lay flat and will mess up your building process.
Don't Build a Uniform Wall. You might think about building a wall all around your house. Do not do this because this can do more harm than good. A uniform wall around your house can trap water between the bags and your house. This can lead to more water damage and will make it difficult for you to get out. You'll have to remove the water yourself with a bucket or pump.
Don't Substitute Other Materials for Sandbags. If you need more coverage but you're out of sandbags, don't replace use straw or bales of hay because these are ineffective and can wash away.
While sandbags can help you a lot with floods, they can't stop everything. So when you're protecting your home from water, remember to lift valuables and personal items off the floor to avoid damage. Lift up curtains and bedding and remove anything from low cabinets.
You might want to keep some new sandbags on hand so you can be proactive with the next water-related event. You can store sandbags as long as you keep them in a dry, dark area. They can degrade and rot when left in a wet or damp area or if they're in direct sunlight.
Protect Your Property From Flooding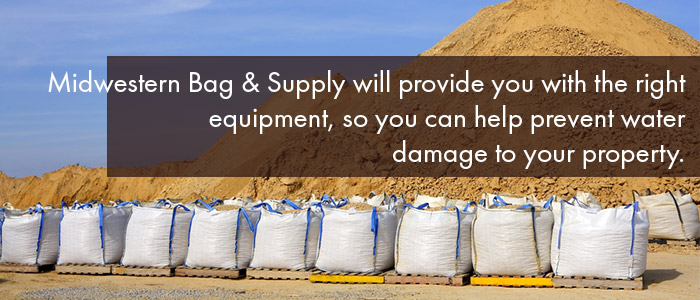 Midwestern Bag & Supply will provide you with the right bags, so you can help prevent water damage to your property. We have a large selection of bulk emergency bags that will fit your specifications.
Our high-quality bags will give you peace of mind knowing that you have dependable materials protecting your home.
Give us a call or request a quote — we can discuss what kind of bags you need.