Midwestern Bag & Supply sponsors the Andy Russell Celebrity Classic yearly in Pittsburgh. Throughout the years, this event has raised more than $6 million for many worthwhile programs including the Children's Hospital Free Care Fund, programs at the University of Pittsburgh Medical Center (UPMC) such as the Children's Neurosurgery Project, the University of Pittsburgh Cancer Institute, the Hillman Cancer Center, the Center for Sports Medicine and the Andy Russell Charitable Foundation.
("Brett Roeder 2nd from the left" next to Glen Edwards (middle), 2x Super Bowl champion with the Pittsburgh Steelers")
We participated in The V Foundation for Cancer Research. The V Foundation for Cancer Research was started in 1993 by Jim Valvano in a quest to eradicate the disease.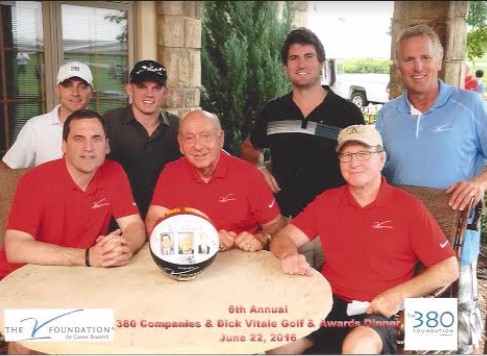 Back left (Josh Coyle, Midwestern Bag) next to (Brett Roeder, Midwestern Bag), back right (Chuck Long, former Iowa Hawkeyes and professional quarterback), front left (Steve Prohm, Iowa State head basketball coach), next to Dick Vitale (legendary ESPN analyst) next to Dan Gable (former collegiate and Olympic wrestling champion, former champion head coach for the Iowa Hawkeyes).